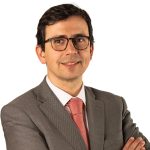 Átomo Capital Partners has moved its offices in Lisbon to the ARCIS Building on Rua Ivone Silva, close to the well-known Entrecampos train station. This new workplace fulfils a desire to significantly improve the quality of the workspace provided to its employees.
According to Miguel Subtil, Managing Director of Átomo Capital Partners, "This move was essential to keep up with the growth of the business and consequently of the team, which has almost doubled in the last year. We're very pleased with this new workspace, and even more so for the reasons that led us to this change. May it always be like this, and now we're even better prepared to welcome our clients, who will be able to enjoy an almost 360º view of Lisbon".
The ARCIS building enjoys a privileged location between Campo Pequeno and Entrecampos, with many access points to various forms of public transport – train, metro and bus – bicycle and electric scooter facilities and access to the city's main avenues.
In addition to accessibility, the range of services (gyms, laundry, supermarkets, pharmacies, shopping centres, etc.) and restaurants are also very rich and diverse, making it easier to achieve the so-called "worklife-balance".