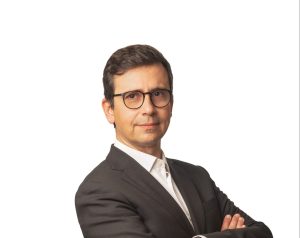 With a mission based on the decarbonization of the economy through reliable and competitive clean energy measures, Átomo is a catalyst for shifting the direction of energy consumption.
Átomo Capital Partners is one of Portugal's leading forces in renewable energy solutions. As a newly founded company, Átomo was born of its sister company, The K Advisors, in 2020. Miguel Subtil, Managing Director of Átomo Capital Partners, says, "The K Advisors works fundamentally in real estate, concentrated on asset valuations, investor support, etc. In 2019, we realized it was important to create an energy and sustainability department because energy is crucial for real estate, for buildings, and for urban areas. The department was created and quickly grew to the point that it made sense to become autonomous and to give a brand and structure of its own to the energy area."
Átomo has four main business lines to help its customers and investors succeed in a rapidly evolving sector: project development, electric mobility, self-consumption, and R&D. Subtil says, "We work fundamentally with the foreign investor who seeks to realize their projects in Portugal and needs a partner to aid their development from A to Z. That is, we look for the most appropriate land, and consider the constraints, the legal impositions, territorial, topography, techniques, etc. We do the whole process until we have the project ready to build." In this line of business, Átomo is currently developing more than 500 megawatts of ongoing projects including solar parks.
Átomo's electric mobility line of business also places it as a charging point operator to cover countries like Portugal and Spain with electric vehicle chargers. Subtil adds, "We are also connected to real estate, which has to do with the energy essence and energy production for self-consumption." As such, Átomo works to calculate and create efficient energy production to increase the profitability and value of properties. "This is a very interesting line of business because we have a very clear climate change context in relation to building and urban centers, and people have realized that something has to be done. The Real Estate sector sometimes forgets that we are responsible for more than a third of carbon emissions, and therefore, we are responsible for more than a third of the problem and must be responsible for a significant part of the solution. That solution is to decarbonize urban centers and buildings and reduce energy consumption." Spearheading this energy agenda not only offers tangible solutions to climate change but also allows Átomo to be consistently one step ahead in technical knowledge.
Átomo's technical expertise is based on research and development, where the company is developing partnerships with Portuguese universities and research centers to study and provide solutions that push forward the energy transition agenda. Subtil says, "This transition is very important. I have no doubts it will happen." With its decarbonization goals set for 2030 and 2050, Átomo's future initiatives are to intensify its plans to make a difference.
To visualize its energy 2030 objectives, Átomo debuted the Renewables Snapshot Report, which offers a summary of the renewable energy situation in Portugal, its opportunities, and potential goals, including the reduction of energy dependence by 65%, the incorporation of 47% of renewables in global energy consumption, and 80% of renewables in electricity production. Subtil says, "To achieve these goals, a number of things will have to be done in an accelerated way. We need technical capacity to implement decentralized production and system flexibility, and that takes will and investment. This gives us a framework where it's possible to position ourselves."
Indeed, the pieces are in place for an energy revolution in Portugal, and Átomo has a plan to lead the sector and implement investors into it. "Clearly, Portugal is going to be an energy-exporting country. That was once unthinkable, but now we have the resources, the technical and technological capacity, the universities and training, and therefore, we have the potential to be very attractive in terms of investment."
Opinion article by Miguel Subtil – Managing Director, published in Forbes on 02 March 2022.